Between tradition and tourism:
Tingatinga and his followers

| | | |
| --- | --- | --- |
| | | Bicycle paint painting by Eduardo S. Tingatinga. Copyright © Jesper Kirknæs, P.O. Box 128, DK-Frederiksberg, Denmark. |

Once there was a man called Eduardo S. Tingatinga. He was born in Mozambique, but during the 1960s he established an art form that became associated with his new homeland, Tanzania. Today, "Tingatinga" is the Tanzanian term for this form of art, known mostly in Tanzania, Kenya, Norway, Sweden, Finland, and Denmark.
Over the years, knowledge about Tingatinga has spread to other parts of Africa and Europe, as well as to other English-speaking parts of the world. Tingatinga is a concept that development assistance workers and African tourists alike have been drawn to, but which, over time, has lost its uniqueness. In the past, Tingatinga art could be sold on its name alone, but increasingly other works of art are being presented as "Tingatinga" as well.
From a purely technical standpoint, Tingatinga art can be defined as painting on masonite using bicycle paint. The paintings can be as small as ceramic tiles, while the biggest paintings are no doubt hanging above thousands of family room sofas. Market limitations have prevented artists from working in larger formats. A majority of the buyers have been foreigners wanting to transport the images out of the country by airplane. From that perspective, Tingatinga is a genuine form of "airport art" - cultural art from developing nations that has been adapted to the special requirements of long-distance travelers, including size. Also the choice of motifs in Tingatinga art has often been adapted to the purchaser's expectations of what should be included in an African painting.

Idioms come together
The heart of Tingatinga art is centered on coastal east African design, where the decorative vines and patterns of the Swahili culture cover delineated spaces that are never allowed to remain completely empty. It is reminiscent of the beautiful, archetypal medieval wooden doors, found in the trading cities along the east African coast, as well as the many modern printed cotton fabrics in the form of kitenges and kangas. The flat, lush surface decorations can even be found in revolutionary illustrations from early 1970s political pamphlets, which were produced in Tanzania by the exiled Mozambican freedom fighters.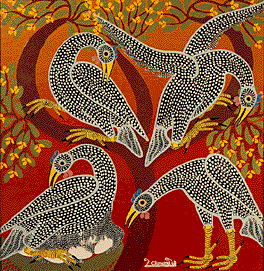 A follower, Chimwanda, is among those who know how to fill the masonite surface with decorative forms. Copyright © Jesper Kirknæs, P.O. Box 128, DK-Frederiksberg, Denmark.

The designs are also used by many of today's younger artists and handicraftspeople, in attempts to identify their own domestic artistic paths in painting, sculpture, carpentry, embroidery etc. Makonde sculptors from Mozambique and Tanzania often show this desire. Horror vacui (fear of emptiness) is also found among several of southern and eastern Africa's established artists: Malangatana from Mozambique, Helen Sebidi from South Africa, painter Mankeu and sketcher and painter Idassé from Mozambique.
José Craverinha should also be mentioned among the modern artists who have adapted the decorative designs of Swahili culture, but with strong and meaningful motifs. Linoleum cuts designed during the 60s, 70s and 80s at the missionary and art schools in South Africa and Tanzania (those of the now deceased and independent-minded John Muafangejo, for example) are related to the designs in form, but do not clearly trace back to an East African pattern tradition. If such links could be proven, they were no doubt created with the encouragement of Nordic missionaries, artists active in Africa and development assistance workers, all of whom were looking for viable concepts for the "true African image".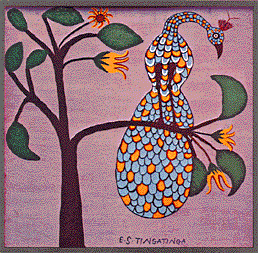 Peacock by Tingatinga.

But there is a conflict in Tingatinga art, especially when one looks at how it has been developed by the followers of the artist who gave it his name. There is a collision or an encounter of two or three of the world's leading art idioms. It was Tingatinga's successors who developed the decorative vein of Tingatinga painting, while the artist himself painted "the big five" and other motifs that were not at all based on the decorative art idiom. "The big five" was a central theme of art and handicrafts from southern and eastern Africa, symbolizing the typical, large animals on the continent: elephant, lion, giraffe, hippopotamus and antelope (or ox). It is closer to being a single-motif art form, a narrative image with a main subject and contributing attributes and symbols. This sort of imagery is found both in the three-dimensional art (sculpture, masks) of other African cultures, as well as in the foundations of Western European art idioms.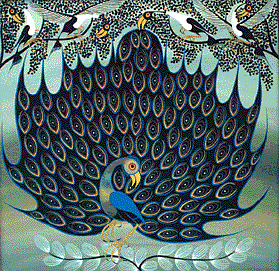 Peacock by Bushiri. Copyright © Jesper Kirknæs, P.O. Box 128, DK-Frederiksberg, Denmark.

By filling surfaces as completely as possible, with one or more of these animals, Tingatinga artists often use the motifs as if they were a part of the Swahili tradition anyway. Animal figures are drawn so that they in their entirety fit into the frame of masonite, or two animals are decoratively placed next to each other, as if they were intertwined calligraphy letters from an old Nordic textile design - or, rather, a selection out of an artistically rendered, beautiful Arabic Koran verse. Many Tingatinga paintings illustrate both the origins of and the meeting between east and west in eastern Africa.

Bicycle paint in vibrant colors
Bicycle paint is a good medium to work in when making clear, vibrant colored paintings that contain sharp contrasts, and still it allows for the ability to work with surfaces of harmonizing shades. Since the paint does not dry very fast, it requires that the artist first paints the background, letting the paint dry before working on the actual motif. This technique of letting the background dry, as well as the thick consistency of bicycle paint, are what make Tingatinga paintings so easy to interpret, since they display contours and clearly separated color surfaces.
The development assistance policies of the Scandinavian countries have, generally speaking, both invited and provided the economic prerequisites for cultural endeavors, to a larger degree than aid to Africa from other countries. Tanzania and Mozambique are countries that have been of special interest to the Nordic countries, while the U.S. and the U.K. have remained somewhat outside of the independence movements of these nations, as well as their later socialistic development.
Tingatinga artists have been supported by the purchase of individual works and whole collections, as well as through the printing and sales of postcards. There have also been several exhibitions arranged in Scandinavia. During the 1980s the history of modern African art was written in English, e.g. the language that today is the prerequisite for any international spread of knowledge. Familiarity with art movements such as Tingatinga, Ujamaa sculptures (which, like Tingatinga painting, is also based in Dar-es-Salaam with roots in Mozambique), Rorke's Drift in South Africa, the Poto-poto school in West Africa, and many other modern artistic developments, has been spread successively through the interaction between active artists and cultural workers from Europe and Africa. The Anglo-Saxon academic world has not shown any great interest in them, nor are they written about very often in English-language cultural publications. The explanation is simple. There is not enough of a connection to British colonial history. Historical writers have focused their interests either on movements where the initiative was either British or British-colonial, or on "non-colonial" Africa - the "inner" worlds of "foreign" cultures such as fetishism and shamanism.

Economic and ideological inquiries
Art and handicrafts need to be salable, more or less on their own strengths. Entrepreneurial African artists have, together with Scandinavian artists and cultural workers from development assistance organizations, tried to find those sorts of products which the market will accept. The myth that neither colonial culture nor post-colonial development assistance operations can influence "free" Africans, is a philosophical problem which cannot be refuted enough. This very supposition has pushed forward the meeting between African culture and the West by more than a thousand years, to a period that is entirely distant from the truth. A desire to identify a unique African culture, especially in conjunction with various independence movements, has unfortunately frequently made a case based on differences between Africa and the West, rather than viewing history from a longer and broader perspective.
The most reasonable conclusion one can reach about Tingatinga art, is to describe the meeting between Scandinavians and Tingatinga and his colleagues as historic and as having influences on both Western and African cultures. It is an historic meeting between initiative rich, creative people in Dar-es-Salaam who earn their livelihoods by selling handmade artistic products, and Scandinavian cultural assistance. Through their sale, however, the paintings have spread far beyond that bilateral contact.

Tingatinga and his circle
In the spring of 1996, Mia Terént wrote an art history paper entitled Eduardo S. Tingatinga and his art. According to Mia Terénts excellent introductory text, Eduardo S. Tingatinga grew up in a farm family in Mozambique and made his way to Dar-Es-Salaam in Tanzania as a 16 year old in 1955. He made his first paintings in 1965 or 1967. His discovery that he could derive an income from this, led to several of his relatives to also begin painting on masonite, an easily available material, with bicycle paint.
The paintings were sold outside of a convenience store in Oysterbay, a white residential area in Dar-Es-Salaam. Cooperation amongst the artists meant that some of them began to specialize in backgrounds while others focused on the main motifs. This also led to some of them becoming leading names within the established Tingatinga art form. According to Meret Teisen, one of Mia Terént's sources, it was through a Scandinavian initiative that Tingatinga was able to put his work on display at the national museum in the capital, and which is considered to have been the first domestic exhibition at the museum, as well as the first one to incorporate autodidacts (self-taught artists).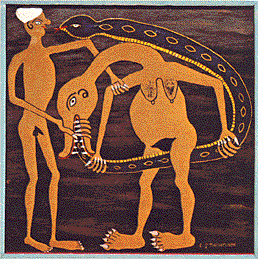 Shetani love scene.

Among Eduardo Tingatinga's successors, his half brother Seymond Mpata should be mentioned. In the beginning of his career, he painted tourist-friendly landscape motifs such as "Kilimanjaro" with its snow-capped peak, landscapes with exotic animals, etc. (His stylistic tendencies towards surface embellishment were developed later.) A cousin to Eduardo's wife, January Linda, was instrumental to his establishment in the market at an early stage, and she was also a painter herself. Cousins Alcis Amonde and Kasper Henrik Tedo joined the operation as did nephew Abdallah Ajaba. Eduardo Tingatinga lost his life in 1972 when he entered a restricted area near a harbor and chose to run when ordered to stop. He was shot to death.
But Tingatinga art lives on. Masonite boards painted with bicycle paint can still be found in well-stocked "curio shops", shopping centers and tourist shops in eastern and southern Africa, as well as in solidarity shops located throughout Western Europe. Export of Tingatinga paintings from Tanzania to Kenya's capital, Nairobi, and other tourist centers, seems to be lively.
The term Tingatinga has been broadened and is now used to describe many different types of colorful paintings. The term is used to provide artistic legitimacy, even if the origins of the artwork are something other than from Tingatinga and his immediate circle.
Additional reading:
Meret Teisen: Tingatinga. Cykellak på masonit. Exhibition catalog, National museum of Art, Copenhagen, 1974.
Tingatinga. Peintures de Tanzanie, 20 mai - 31 août 1992. Exhibition catalog (exhibition commissioners: Lucette Albaret and Henri Marchal, Adeiao) Paris, 1992.
Mia Terént: Eduardo S. Tingatinga och hans konst. (Department of Art History, Uppsala University, Advisor: B. Sahlström, M. Granath.) Swedish missionary and former Tanzanian parliamentary member Barbro Johansson, as well as Bibbi Smide, were interviewed by Mia Terént in in conjunction with her research paper.
Karl-Ferdinand Schaedler: Die Tingatinga-Schule. München, 1998 (covers mainly Tingatinga's followers).
For general information about modern art forms in eastern and southern Africa, see Berit Sahlström's "East and southern African contemporary arts and crafts" in Islamic Art and culture in Sub-Saharan Africa, Karin Adahl and Berit Sahlström, editors, Uppsala, 1995.