---
Please note: All files marked with a copyright notice are subject to normal copyright restrictions. These files may, however, be downloaded for personal use. Electronically distributed texts may easily be corrupted, deliberately or by technical causes. When you base other works on such texts, double-check with a printed source if possible.
---
Kisamor, dokument 12, verso
(Kisamor document no 12, verso)
Svensk renskrift av brevet följer längst ned på sidan.
Short English description of the contents of letter no 12, verso:
Kisamor is supposed to visit a baroness in the county of Närke, but since she hasn't written, Kisamor doesn' t know whether she is alive or not. Kisamor has received a plea from a lady who has arrived from Finland. Her name is Dang (?). "But I won't go", Kisamor writes without further explanation. The "misses" (the Hellwegh sisters) send their love to J. (A transcript of this document in Swedish, see bottom of page.)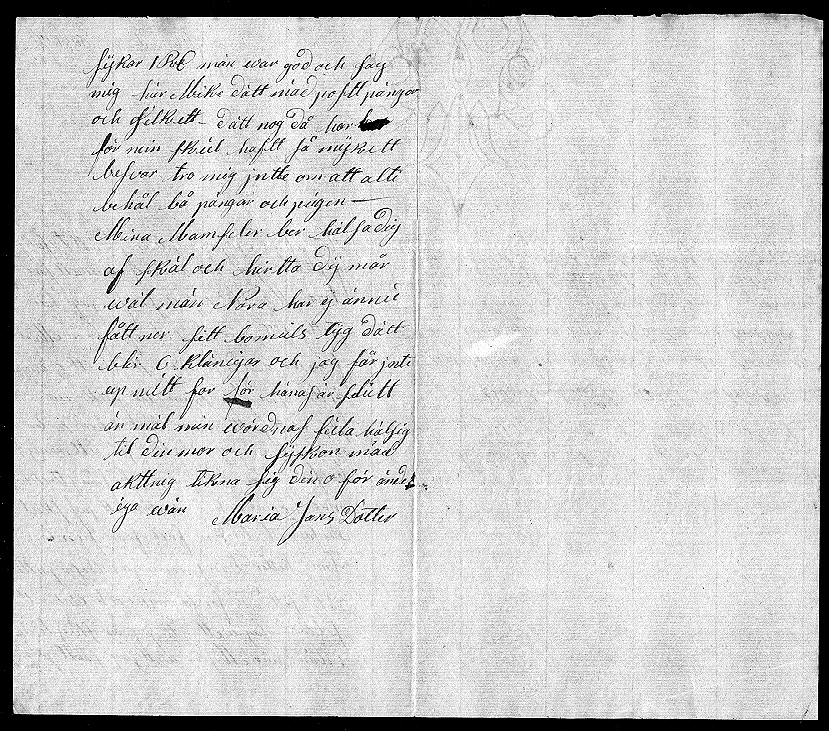 Brev den 22 juli 1820 från Kisamor till Jeanette Ståhl. Mått: 22,5 cm x 19,5 cm.
Transkription


sijkar 1 Rd män war god och säg
mig hur Mike dätt mäd postt pängar
och selkett - dätt nog då har [? överstruket/overstrike]
för min skul hafft så mykett
besvar tro mig jntte om att alti
behål bå pängar och pugen -
Mina Mamseler ber hälsa dig
af skäl och hirtta dij mår
wäl män Nora har ej ännu
fått ner sitt bomuls tyg dätt
blir 6 Klänigar och jag får jnte
up mitt for för hänäs är slutt
an mäl min wördnas fula hälsig
til din mor och syskon mäd
akttnig tikna sig din o för ändel-
iga wän Maria Jans Dotter


Artikel om Kisamor
Article about Kisamor
---
[English Homepage]
[Svensk bassida]
[Origo menu]
[Kisamor Översikt/Overview]
---
***