---
Please note: All files marked with a copyright notice are subject to normal copyright restrictions. These files may, however, be downloaded for personal use. Electronically distributed texts may easily be corrupted, deliberately or by technical causes. When you base other works on such texts, double-check with a printed source if possible.
---
Kisamor, dokument 15
(Kisamor document no 15)
Svensk renskrift av brevet följer längst ned på sidan.
Short English description of the contents of letter no 15:
Letter from Kisamor to Johan Wilhelm Wahlbom. Kisamor asks "Mr Merchant" to get silk for her, according to enclosed samples. She wants it fast, since the web is set up and autumn soon will come. Kisamor wants it to be sent to an address in Tuna, where she stays to treat a Mrs Hammarsköld. The letter is signed "With highest esteem I am honored to be Mr Merchant's most humble servant Maria Jans Doter." (A transcript of this document in Swedish, see bottom of page.)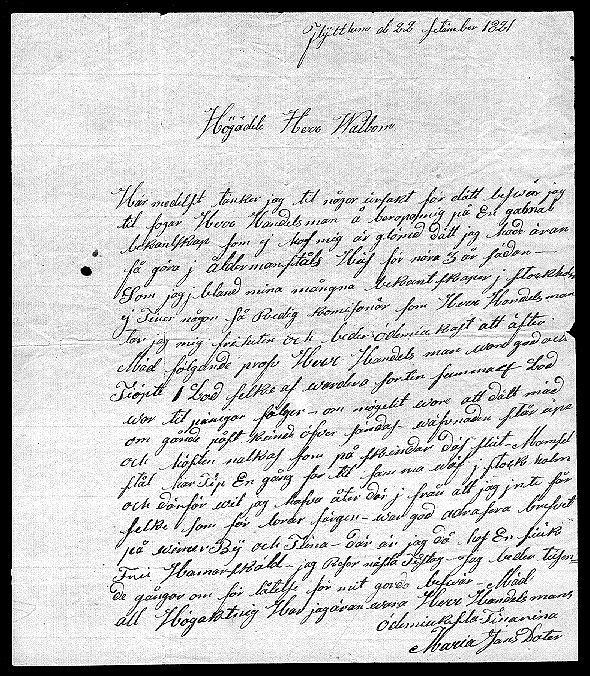 Brev den 22 september 1821 från Kisamor till Johan Wilhelm Wahlbom. Mått: 19 cm x 22,5 cm.

Transkription


Flytthem d 22 setamber 1821

Högädele Herr Walbom

Här medelst tänker jag til någor ursakt för dätt beswär jag
til fogar Herr Handelsman å beropa mig på En gamal
bekantskap som ej hos mig är glömd dätt jag hade äran
få göra j ålderman ståls Hus för nära 3 år sädan -
Som jag j bland mina mångna bekantskaper j stockholm
ej Tiner någon så Redig Komisonär som Herr Handelsman
tar jag mig friheten och beder ödemiukast att äfter
Mäd fölgande profv Herr Handels man wore god och
Tiöpte 1 Lod selke af wardera sorten summa 4 Lod
war til pänigar fölger - om mögelit wore att dätt mäd
om gånde påst Kunde öfver sändas - wäfnaden står upe
och hösten nalkas som på skindar däs slut - Mamsel
stål har Tip En gång för til samma wäf j stockholm
och därför wil jag hafva åter där j från att jag jnte får
selke som för lorar färgen - war god adrasera brefvet
på wimer By och Tuna - där är jag då hos En siuk
Fru Hamarsköld - jag Reser nästa Tistag - Jag beder tusen-
de gånger om för låtelse för mit gorda beswär - Mäd
all Högaktnig Har jag äran wara Herr Handelsmans
                         ödemiukaste Tinarina
                         Maria Jans Doter


Artikel om Kisamor
Article about Kisamor
---
[English Homepage]
[Svensk bassida]
[Origo menu]
[Kisamor Översikt/Overview]
---
***