---
Please note: All files marked with a copyright notice are subject to normal copyright restrictions. These files may, however, be downloaded for personal use. Electronically distributed texts may easily be corrupted, deliberately or by technical causes. When you base other works on such texts, double-check with a printed source if possible.
---
Kisamor, dokument 16, verso
(Kisamor document no 16, verso)
Svensk renskrift av brevet följer längst ned på sidan.
Short English description of the contents of letter no 16, verso:
Kisamor is dismayed to hear that Jeanette is not feeling better. She now suffers from haemorrhoids and is recommended a diet and leeches. Kisamor also mentions that she is treating a Miss Carlson and that she must go to Wäsby to attend to a little boy. In an added note by signatures NH and FH (Nora and Fredrika Hellwegh probably) they send their best wishes. (A transcript of this document in Swedish, see bottom of page.)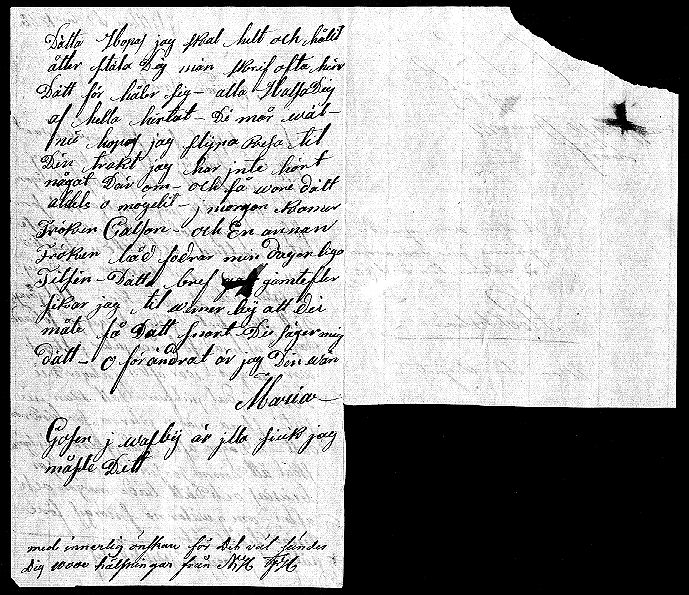 Brev den 2 juni 1822 från Kisamor till Jeanette Ståhl. Mått: 22,5 cm x 19,5 cm.
Transkription


Dätta Hopas jag skal helt och hålit
åtter stäla Dig män skrif ofta hur
Dätt för håler sig - alla Hälsa Dig
af hella hirtat - Di mår wäl -
nu hopas jag slijpa Resa til
Din trakt jag har jnte hört
något Där om - och så wore dätt
aldels o mögelit - j morgon Komer
Fröken Calson - och En annan
Fröken båd fodrar min dager liga
Tilsin - Dätta bref gämtefler
sikar jag til wimer by att du
måte få dätt snart - Du säger mig
dätt - o förändrat är jag Din wän
Maria

Gosen j wasby är jlla siuk jag
måste Ditt
[en annan person har tillfogat:/added in another person's hand:]
Med innerlig önskan för Dit väl sändes
Dig 10000 hälsningar från NH FH [?]


Artikel om Kisamor
Article about Kisamor
---
[English Homepage]
[Svensk bassida]
[Origo menu]
[Kisamor Översikt/Overview]
---
***