---
Please note: All files marked with a copyright notice are subject to normal copyright restrictions. These files may, however, be downloaded for personal use. Electronically distributed texts may easily be corrupted, deliberately or by technical causes. When you base other works on such texts, double-check with a printed source if possible.
---
Kisamor, dokument 17
(Kisamor document no 17)
Svensk renskrift av brevet följer längst ned på sidan.
Short English description of the contents of letter no 17:
Kisamor is working hard, "surrounded by sick people", so the letter must be short. Jeanette mustn't ride horses, but riding in a carriage or walking is permitted. Hot baths and wild strawberries is also good for her. "Would it be possible for you to visit us a few days?" (A transcript of this document in Swedish, see bottom of page.)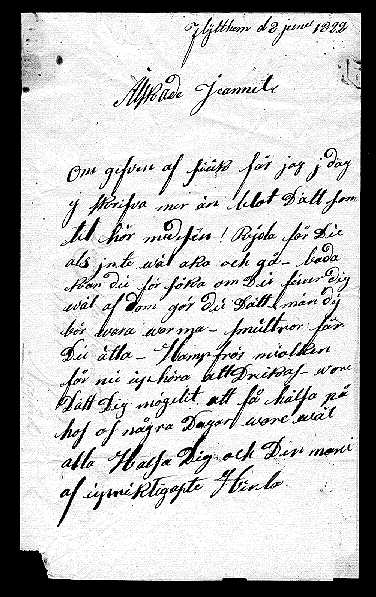 Brev den 8 juni 1822 från Kisamor till Jeanette Ståhl. Mått: 15 cm x 20 cm.

Transkription


Flytthem d 8 junu 1822

Älskade Jeannete

Om gifven af siuk får jag j dag
e j skrifva mer än blot Dätt som
til hör medesin! Rijda får Du
als jnte wäl åka och gå - bada
Kan du för söka om Du finer dig
wäl af dom gör du Dätt män dij
bör wara war ma - smultror får
Du ätta - Hampfrös miolken
får nu uphöra att Drikas - wore
Dätt Dig mögelit att få hälsa på
hos os några Dagar wore wäl
alla Halsa Dig och Din [mari?]
af upriktigaste Hirta

[Brevet adresserat till:/the address written as:]
Demoiselle Jeanette
Ståhl
Nygård


Artikel om Kisamor
Article about Kisamor
---
[English Homepage]
[Svensk bassida]
[Origo menu]
[Kisamor Översikt/Overview]
---
***