---
Please note: All files marked with a copyright notice are subject to normal copyright restrictions. These files may, however, be downloaded for personal use. Electronically distributed texts may easily be corrupted, deliberately or by technical causes. When you base other works on such texts, double-check with a printed source if possible.
---
Kisamor, dokument 18, verso
(Kisamor document no 18, verso)
Svensk renskrift av brevet följer längst ned på sidan.
Short English description of the contents of letter no 18, verso:
"Mirth at wäsby since Juli D's (Drangel's?) lover arrived last Thursday. He really is amiable --- At Åby mansion there is now a lot of visitors but I will only mention 2 because of their merits Doctor Lunberg - and ditto Axenberg they are not here to treat some illness, but when it comes to calming that sweet faintness in!! young maidens, then at least they can make themselves useful - Miss Rudenskjöld is supposed to become governess at Åby this autumn birds of a feather flock together ---- Everybody send you their friendly greetings, I am too your un chang ing Maria Janson" (A transcript of this document in Swedish, see bottom of page.)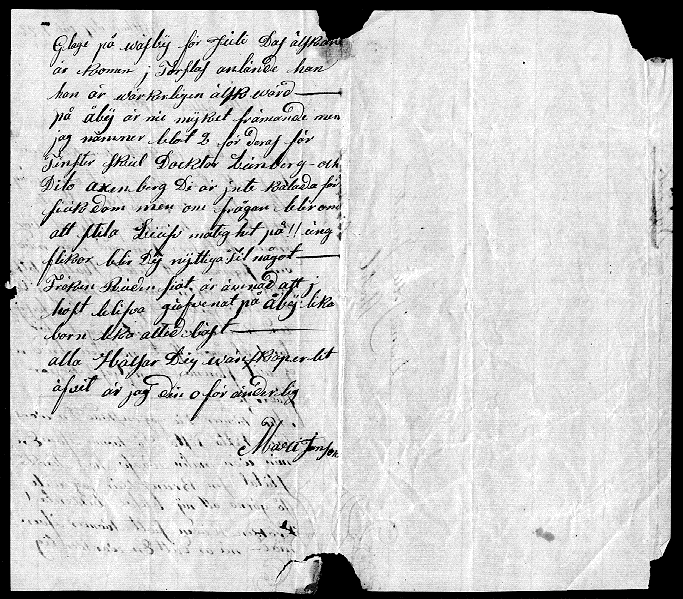 Brev den 17 juli 1822 från Kisamor till Jeanette Ståhl. Mått: 22,5 cm x 20 cm.
Transkription


Glage på wäsby för Juli D[?] älskar[?]
är Komen j Torstas anlände han
han är wärkerligen älskward ---
på åby är nu myket främande men
jag nämner blot 2 för deras för
Tinster skul Docktor Lunberg - och
Dito axen berg Di är jnte Kalade för
siuk dom men om frågan blir om
att stila Liufv matighet på!! ung
flikor blir Dij nyttiga Til något -
Fröken Ruden siot är ämnad att j
höst blifva gufvenat pa åby lika
barn leka altid bäst ----
alla Hälsar Dig wänskaperlit
äfvit är jag din o för änderlig
                   Maria Janson


Artikel om Kisamor
Article about Kisamor
---
[English Homepage]
[Svensk bassida]
[Origo menu]
[Kisamor Översikt/Overview]
---
***