---
Please note: All files marked with a copyright notice are subject to normal copyright restrictions. These files may, however, be downloaded for personal use. Electronically distributed texts may easily be corrupted, deliberately or by technical causes. When you base other works on such texts, double-check with a printed source if possible.
---
Kisamor, dokument 19
(Kisamor document no 19)
Svensk renskrift av brevet följer längst ned på sidan.
Short English description of the contents of letter no 19:
Kisamor writes that Jeanette's last letter made her so happy that she almost forgot about her duties and travelled to Stockholm. This was the third letter in a short time that called her to Stockholm; apart from Jeanette also a wholesaler and a silk manufacturer. But Kisamor turned them all down without hesitation. "You judge for yourself if I am being harsh!" Kisamor says that she has so many visitors she must treat, that she cannot abandon them. (A transcript of this document in Swedish, see bottom of page.)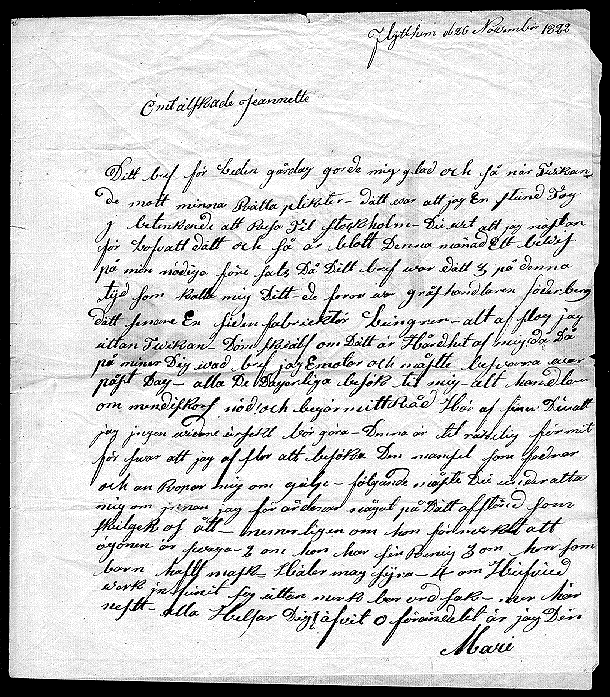 Brev den 26 november 1822 från Kisamor till Jeanette Ståhl. Mått: 20 cm x 23 cm, i vikt skick.

Transkription


Flytthem d 26 November 1822

Ömt älskade Jeannette

Ditt bref för Leden gårdag gorde mig glad och så när Twikan-
de mott minna Rätta plikter - dätt war att jag En stund Tog
j betenkende att Resa Til stockholm - Du wet att jag nästan
för Lofvatt dätt och så är blott Denna månad Ett bewis
på min nödiga före sats Då Ditt bref war dätt 3 på denna
tijd som Kalla mig Ditt - de förre war gråshandlaren söderberg
dätt senare En siden fabricktör Lungren - alt af slog jag
uttan Twikan - Döm skiälf om Dätt är Hårdhet af mig! då Då
på miner Dig wad bref jag Emotar och måstte besvara war
påst Dag - alla De Dagerliga besök til mig - alt handlar
om mendiskors nöd! och begär mitt Råd Här af finer Du att
jag jngen widare ursekt bör göra - Denna är til räkelig för mit
för swar att jag af stor att besöka Den mamsel som fodrar
och an Ropar mig om gälp - fölgande maste Du underatta
mig om jnnan jag för årdnar något på dätt afstånd som
skilger os ått - nemerligen om hon förmerkt att
ögonen är swaga - 2 om hon har sin Renig 3 om hon som
barn haftt mask Häler mag syra - 4 om Hufvud
werk jnfunit sig uttan merk bar ord sak - mer här
nestt - alla Helsar Dig äfvit o förändelit är jag Din
                      Mari

[Brevet adresserat till:/the address written as:]
Demoiselle
Demoiselle Janette Ståhl
               Stockholm


Artikel om Kisamor
Article about Kisamor
---
[English Homepage]
[Svensk bassida]
[Origo menu]
[Kisamor Översikt/Overview]
---
***