---
Please note: All files marked with a copyright notice are subject to normal copyright restrictions. These files may, however, be downloaded for personal use. Electronically distributed texts may easily be corrupted, deliberately or by technical causes. When you base other works on such texts, double-check with a printed source if possible.
---
Kisamor, dokument 1, verso
(Kisamor document no 1, verso)
Svensk renskrift av dokumentet föjer längst ned på sidan.
Short English description of the contents of document no 1, verso:
This is page 2 of the draft for a letter to Kisamor from Jeanette Ståhl (daughter of chair maker Ephraim Ståhl) where she pleads for help and describes her illnesses - an abscess on her neck and headaches. Probably written in 1816. (A transcript of this document in Swedish, see bottom of page.)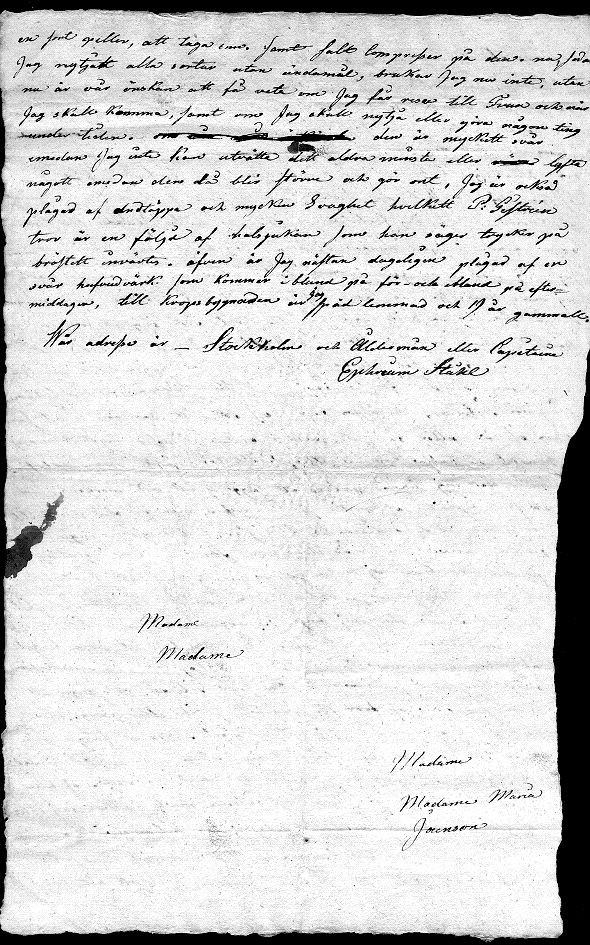 Sida 2 av utkastet till brev från Jeanette Ståhl till Kisamor. Troligen från hösten 1816. Mått: 20/22 cm x 34 cm.

Transkription


en sort piller, att taga in. samt salv Compresser på den. Nu sedan
Jag nytjatt alla sorter utan ändamål, brukar Jag nu inte, utan
nu är vår önskan att få veta om Jag får resa till Frun och när
Jag skall komma, samt om Jag skall nytja eller göra någon ting
under tiden. ---- den är mycket svår
emedan Jag inte kan uträtta dett aldra minsta eller lyfta
något emedan den då blir större och gör ont. Jag är också
plågad av andtäppa och mycken svaghet hvilkett P Gistréen
tror är en följd av halsjukan som han säger trycker på
bröstet invärtes. äfven är Jag nästan dagligen plågad af en
svår hufvudvärk som kommer i bland på för- och ibland på efter-
middagen. till kroppsbyggnaden är jag spädlemmad och 19 år gammall.

Wår adresse är - Stockholm och Ålderman eller Capitaine
Ephraim Ståhl

Artikel om Kisamor
Article about Kisamor
---
[English Homepage]
[Svensk bassida]
[Origo menu]
[Kisamor Översikt/Overview]
---
***