---
Please note: All files marked with a copyright notice are subject to normal copyright restrictions. These files may, however, be downloaded for personal use. Electronically distributed texts may easily be corrupted, deliberately or by technical causes. When you base other works on such texts, double-check with a printed source if possible.
---
Kisamor, dokument 20
(Kisamor document no 20)
Svensk renskrift av brevet följer längst ned på sidan.
Short English description of the contents of letter no 20:
Jeanette will soon get married to the merchant Wahlbom, and Kisamor writes: "Were I in possession of some eloquence how complete would it not be, since it stems from the hart! such delightful reasons I have to wish you a happy and joyful entry into this approaching - the beginning must be and become the most important in your lifetime - may all your remaining years end with the same happy prospects as this one starts my hart's wish will follow you - may your bliss be as full as everybody wishes ---"
Kisamor recommends Jeanette to apply birch lichen to her armpits, to reduce transpiration. But she mustn't use it to much, it could be dangerous not to transpire at all. (A transcript of this document in Swedish, see bottom of page.)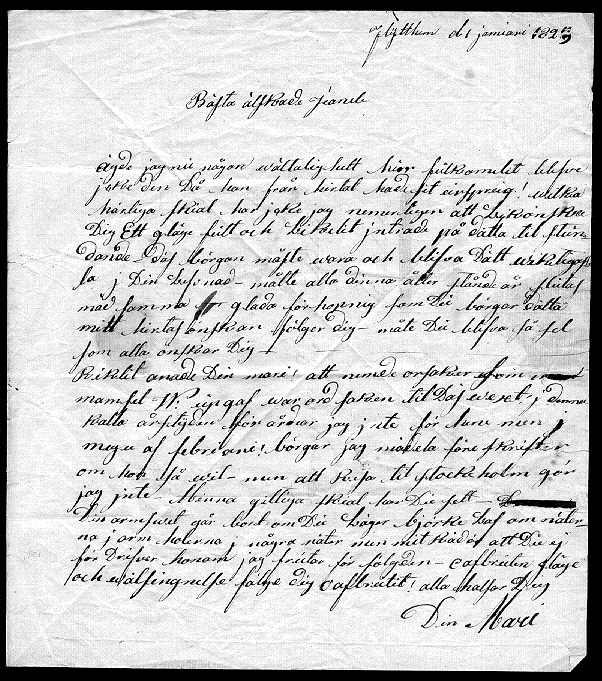 Brev den 1 januari 1823 från Kisamor till Jeanette Ståhl. Mått: 19,5 cm x 22,5 cm, i vikt skick.
Transkription


Flytthem d 1 jamiari 1823

Bästa älskade Jeanet

Ägde jag nu någon wältalighett hur fulkomelit blefve
jcke den Då han från hirtat hade sit ursprug! wilka
härliga skial har jcke jag nemerligen att Lykönska
Dig Ett gläge fult och Likelit jnträde på dätta til stun-
dande -däs börgan måste wara och blifva Dätt wiktigas-
la j Din Lefvnad - måtte alla dinna åtter stånde år slutas
mäd samma glada förhopnig som Du börgar dätta
mitt hirtas önskan fölger dig - måte Du blifva så sel
som alla önskar Dig ----- ------ ----- ------
Riktit anade Din mari att nemde orsaker som [?]
mamsel W: [=Wilman] upgaf war ord saken til Däs wext! j denna
Kalla årstijden för årdnar jnte för hene men j
megu [=medio] af febriari! börgar jag mädela före skrifter
om hon så wil - men att Resa til stockholm gör
jag jnte - Minna giltiga skial har Du sett - 
Din armswet går bort om Du Läger björke Laf om näter-
na j arm holerna j några näter men mit Råd är att Du ej
för Drifver honom jag frutar för fölgden - oafbruten gläge
och wälsingnelse fölge dig oafbrutit! alla halsar Dig
                             Din Mari


[Brevet adresserat till:/the address written as:]

9
Linköping
Demoiselle Jaenette Ståhle
Stockholm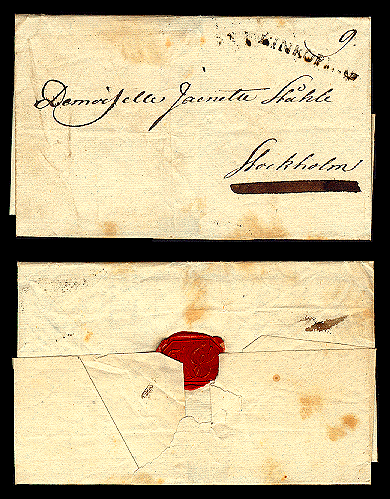 Brevet i hopvikt skick med lackstämpel. Mått: 15 cm x 20 cm.

Artikel om Kisamor
Article about Kisamor
---
[English Homepage]
[Svensk bassida]
[Origo menu]
[Kisamor Översikt/Overview]
---
***