---
Please note: All files marked with a copyright notice are subject to normal copyright restrictions. These files may, however, be downloaded for personal use. Electronically distributed texts may easily be corrupted, deliberately or by technical causes. When you base other works on such texts, double-check with a printed source if possible.
---
Kisamor, dokument 21, verso
(Kisamor document no 21, verso)
Svensk renskrift av brevet följer längst ned på sidan.
Short English description of the contents of letter no 21, verso:
"It must seem strange to you to receive a letter from me without having written first," Kisamor says. But she needs an address to a Miss Wiman. And, she adds, if "your little love sapling leaves you alone for some time" would she please buy "mössbandsrosor" (some kind of application for hatbands maybe?). And Fredrike Hellwegh asks Jeanette (through Kisamor) to buy some combs. (A transcript of this document in Swedish, see bottom of page.)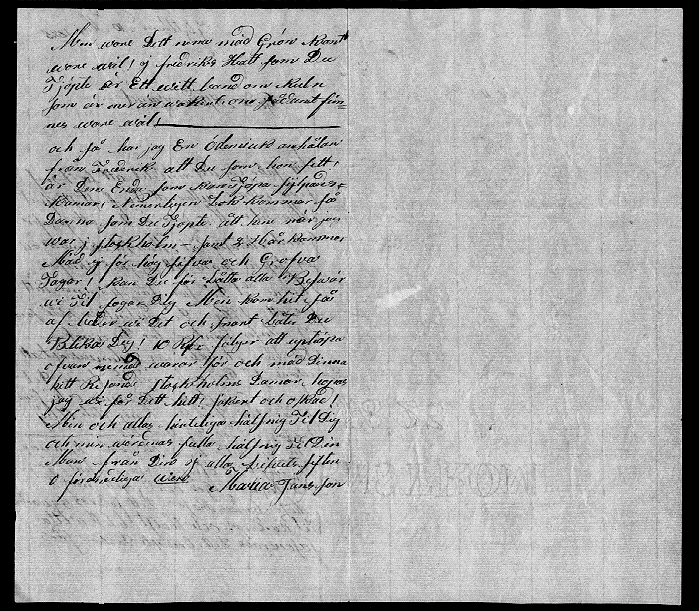 Brev den 10 maj 1825 från Kisamor till Jeanette Ståhl. Mått: 23 cm x 20 cm.
Transkription


Men wore Dett nena mäd Grön Kant
wore wäl! j fredrikas Hatt som Du
Tjöpte är Ett witt band om Kuln
som är mer än wakert, om sådant fin-
nes wore wäl ----------------------
och så har jag En ödemiuk anhålan
fråan Frederik att Du som hon sett!
är Den Enda som Kan Tjöpa sijlpades-[sköldpadds-]
Kamar, Nemerligen Lok Kammar så
Danna som Du Tjopte ått hene när jag
war j stockholm - samt 2 Hår Kammar
Mäd ej för hög sifva och Grofva
Tagar! Kan Du för Låtta alla Beswär
wi Til fogar Dig Men Kom hit så
af leder [?] wi Det och snart Låter Du
Blika Dig! 10 Rdr fölger att uptiöpa
ofvan nemde waror för och mäd Dinna
hitt Resande stockholms Damor hopas
jag wi får Dett hitt! säkert och oskad!
Min och allas hirteliga hälsnig Til Dig
och min wördenas fulla hälsnig Til Din
Man från Din j allo Lifvets siften
o förändeliga wen
                  Maria Jans son


Artikel om Kisamor
Article about Kisamor
---
[English Homepage]
[Svensk bassida]
[Origo menu]
[Kisamor Översikt/Overview]
---
***