---
Please note: All files marked with a copyright notice are subject to normal copyright restrictions. These files may, however, be downloaded for personal use. Electronically distributed texts may easily be corrupted, deliberately or by technical causes. When you base other works on such texts, double-check with a printed source if possible.
---
Kisamor, dokument 22, verso
(Kisamor document no 22, verso)
Svensk renskrift av brevet följer längst ned på sidan.
Short English description of the contents of letter no 22, verso:
Kisamor sends her thanks to Jeanette for well executed commissions. Here is also a description of eye drops, containing egg white and bay-berries. (A transcript of this document in Swedish, see bottom of page.)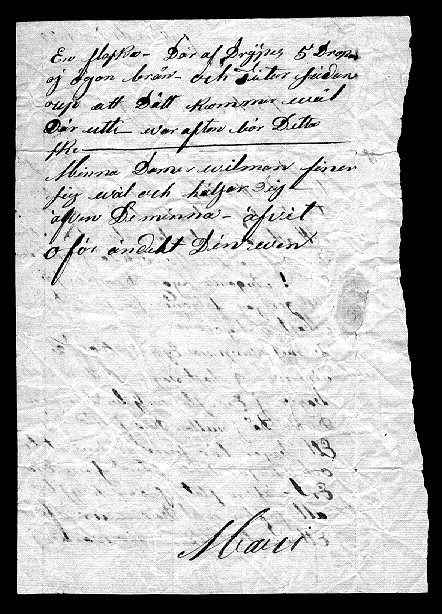 Brev den 1 juni 1825 från Kisamor till Jeanette Ståhl. Mått: 14 cm x 20 cm.
Transkription


En flaska - Där af Drypes 5 Dropar
j ögon brån - och Titar sädan
up att Dätt Kommer wäl
Där utti -war afton bör Detta
ske --------------------
Minna Damer wilman finer
sig wäl och hälsar Dig
äfven De minna - äfvit
oför ändelit Din wen

                    Mari


Artikel om Kisamor
Article about Kisamor
---
[English Homepage]
[Svensk bassida]
[Origo menu]
[Kisamor Översikt/Overview]
---
***