---
Please note: All files marked with a copyright notice are subject to normal copyright restrictions. These files may, however, be downloaded for personal use. Electronically distributed texts may easily be corrupted, deliberately or by technical causes. When you base other works on such texts, double-check with a printed source if possible.
---
Kisamor, dokument 25
(Kisamor document no 25)
Svensk renskrift av brevet följer längst ned på sidan.
Short English description of the contents of letter no 25:
Kisamor invites Jeanette ("Ceharnet") to a game of "borstång" [cards?] and wants her to buy some silk and also to send "that song you sang at Åby". Otherwise nothing new to tell, she is treating Mrs Hammarskjöld - probably Charlotta Hammarskjöld, the sister of Amalia Rääf. (A transcript of this document in Swedish, see bottom of page.)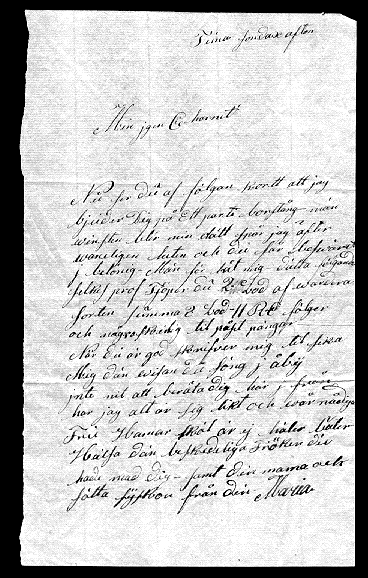 Brev från Kisamor till Jeanette Ståhl. Trol. från 1821. Mått: 11 cm x 19 cm.
Transkription


Tuna sondax afton

Min jgen Ceharnet

Nu ser du af fölgan kortt att jag
bjuder Dig på Ett parti borstång - män
winsten blir min dätt spår jag äfter
waneligen heten och du får beswäret
j belönig - Män för låt mig - dätta fölgande
selkes prof Tjöper du 2 Lod af wardera
sorten summa 8 Lod - 11 Rd fölger
och några skilig til påst pängar ----
När du är god skrifver mig til sika
Mig dän wisan du söng j åby
jnte nit att beräta dig här j från
har jag alt är sig likt och wår nådiga
Fru Hamar sköl är ej häler bäter
Hälsa dän beskedeliga Fröken du
hade mäd dig - samt din mama och
sötta syskon fran din Maria


Artikel om Kisamor
Article about Kisamor
---
[English Homepage]
[Svensk bassida]
[Origo menu]
[Kisamor Översikt/Overview]
---
***