---
Please note: All files marked with a copyright notice are subject to normal copyright restrictions. These files may, however, be downloaded for personal use. Electronically distributed texts may easily be corrupted, deliberately or by technical causes. When you base other works on such texts, double-check with a printed source if possible.
---
Kisamor, dokument 26, recept 1
(Kisamor document no 26, prescription 1)
Svensk renskrift av receptet föjer längst ned på sidan.
Short English description of the contents of prescription no 1:
Decoction for consumption, containing garlic, acorus calmus, buckbean (trefoil), and polypody roots. (A transcript of this document in Swedish, see bottom of page.)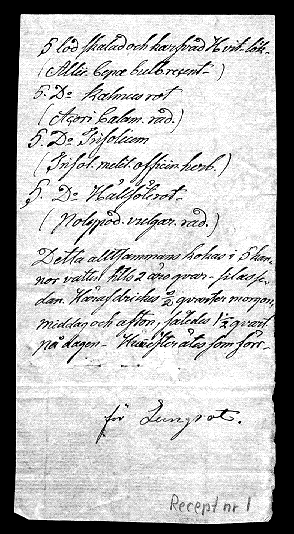 Recept nr 1. Mått: 9 cm x 17,5 cm.

Transkription


5 lod skalad och karfvad Hvit-lök
(Allii Cepae bulb.recept)
5 Do kalmus rot
(Acori Calam.rad)
5 Do Trifolium
(Trifol. melit. officin.herb.)
5 Do Hällsöterot
(Polypod.vulgar.rad.)

Detta alltsammans kokas i 5 kan
nor vatten tills 2 äro qvar - silas se-
dan. Häraf drickes  ?/2 qvarter morgon,
middag och afton, således 1 1/2 qvart
på dagen - Hunister ätes som förr - 

för Lungsot.


Artikel om Kisamor
Article about Kisamor
---
[English Homepage]
[Svensk bassida]
[Origo menu]
[Kisamor Översikt/Overview]
---
***