---
Please note: All files marked with a copyright notice are subject to normal copyright restrictions. These files may, however, be downloaded for personal use. Electronically distributed texts may easily be corrupted, deliberately or by technical causes. When you base other works on such texts, double-check with a printed source if possible.
---
Kisamor, dokument 27, recept 3
(Kisamor document no 27, prescription 3)
Svensk renskrift av receptet föjer längst ned på sidan.
Short English description of the contents of prescription no 3:
Ointment for wet compresses, with althaea officinalis and bay-berry oil. (A transcript of this document in Swedish, see bottom of page.)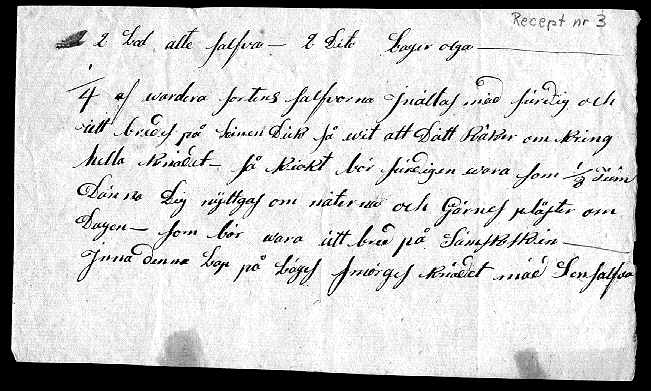 Recept nr 3. Mått: 21,5 cm x 12,5 cm.
Transkription


2 Lod alte salfva - 2 Dito Lager olga
1/4 af wardera sortens salfvorna jnältas mäd färdig och
utt bredes på Linen Duk så wit att Dätt Räker om Kring
hella Knädet - så Kiokt bör surdigen wara som 1/8 Tum
Dänna Dig nyttgas om näterna och Gärnes plåster om
Dagen - som bör wara utt bred på Sämskskin -------
Jnna denna Lap på läges smörges Knädet mäd Sensalfva


Artikel om Kisamor
Article about Kisamor
---
[English Homepage]
[Svensk bassida]
[Origo menu]
[Kisamor Översikt/Overview]
---
***