---
Please note: All files marked with a copyright notice are subject to normal copyright restrictions. These files may, however, be downloaded for personal use. Electronically distributed texts may easily be corrupted, deliberately or by technical causes. When you base other works on such texts, double-check with a printed source if possible.
---
Kisamor, dokument 27, recept 4
(Kisamor document no 27, prescription 4)
Svensk renskrift av receptet föjer längst ned på sidan.
Short English description of the contents of prescription no 4:
The necessary roots are enclosed with this prescription, so unfortunately they are not mentioned. Turnip and some spices (or herbs) are mentioned. What this is a cure for is hard to say. (A transcript of this document in Swedish, see bottom of page.)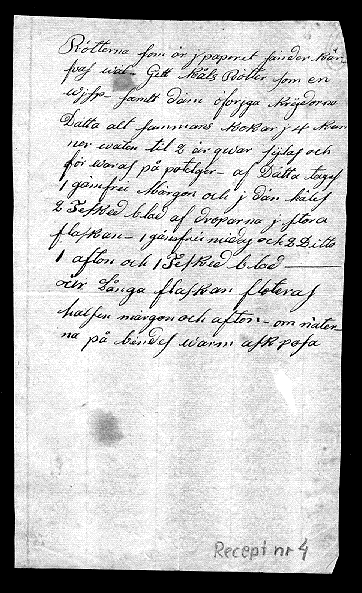 Recept nr 4. Mått: 11 cm x 19 cm.

Transkription


Rötterna som är j paperet sönder Kär-
fvas wäl - [Gett?] Kåls Rötter som en
wjsp - samtt däm öfvrjga Krydorna
Dätta alt sammans Kokar j 4 Kan-
ner waten til 2 är qwar sijlas och
för waras på potelger - af Dätta tages
1 gämfru Mårgon och j dän häles
2 Tesked blad af droparna j stora
flaskan - 1 gämfru midag och 2 Ditto
1 afton och 1 Tesked blad ---------
ur Långa flaskan floteras
halsen mårgon och afton - om näter-
na på bindes warm askposa


Artikel om Kisamor
Article about Kisamor
---
[English Homepage]
[Svensk bassida]
[Origo menu]
[Kisamor Översikt/Overview]
---
***