---
Please note: All files marked with a copyright notice are subject to normal copyright restrictions. These files may, however, be downloaded for personal use. Electronically distributed texts may easily be corrupted, deliberately or by technical causes. When you base other works on such texts, double-check with a printed source if possible.
---
Kisamor, dokument 28, recept 5
(Kisamor document no 28, prescription 5)
Svensk renskrift av receptet föjer längst ned på sidan.
Short English description of the contents of prescription no 5:
A prescription with egg yolk (possibly egg white as well?) some vinegar, "to give to the boy, half of it at a time the last three days of wane and the first three days in waxing." (A transcript of this document in Swedish, see bottom of page.)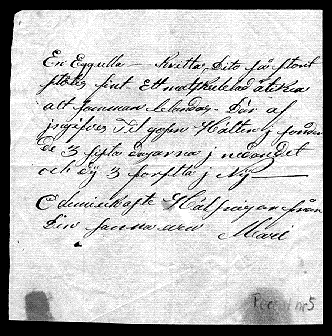 Recept nr 5. Mått: 10,5 cm x 11 cm.

Transkription


En Eggulla - [Kvitta?] Dito så [stort?]
stötes fint - Ett matskeblad ätika
alt samman blandas - Där af
jngifves Til gosen Hälten j sonder
de 3 sista dagarna j nedandet
och dij 3 forsta j Ny -------
Ödemiukaste Hälsnigar från
Din sanna wen Mari


Artikel om Kisamor
Article about Kisamor
---
[English Homepage]
[Svensk bassida]
[Origo menu]
[Kisamor Översikt/Overview]
---
***