---
Please note: All files marked with a copyright notice are subject to normal copyright restrictions. These files may, however, be downloaded for personal use. Electronically distributed texts may easily be corrupted, deliberately or by technical causes. When you base other works on such texts, double-check with a printed source if possible.
---
Kisamor, dokument 3
(Kisamor document no 3)
Svensk renskrift av brevet följer längst ned på sidan.
Short English description of the contents of document no 3:
The first of Kisamor's letters to Jeanette Ståhl. She talks about a letter that has disappeared in the mail and concludes by telling Jeanette that she is welcome whenever she wants to come. (A transcript of this document in Swedish, see bottom of page.)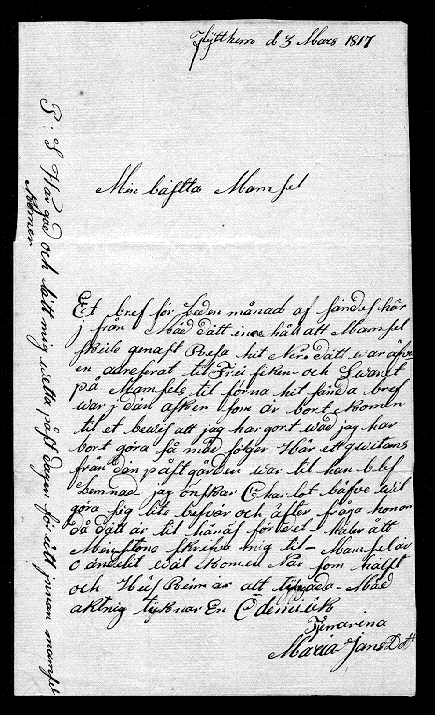 Brev den 3 mars 1817 från Kisamor till Jeanette Ståhl. Mått: 11,2 cm x 19 cm.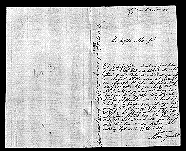 Brevet är skrivet på ett dubbelvikt ark som ovikt (22,5 cm x 19 cm) ser ut som på den lilla bilden. Baksidan är tom.
This letter is written on a folded sheet, which unfolded (22.5 cm x 19 cm) looks like this. The verso side is empty.
Transkription

              Flytthem d 3 Mars 1817

Min bästta Mamsel

Et bref för Leden månad af Sändes här
j från Mäd dätt innehåll att Mamsel
skule genast Resa hit Ner o dätt war äfve
en adreserat til Fru fiken - och Swaret
på Mamsels til förna hit sända bref
war j dän asken som är bort Komen
til et bewis att jag har gort wad jag har
bort göra så mäd fölger Här ett qwitans
från dän påst gården war til han blef
Lemnad - jag önskar Charlot bäfve wil
göra sig lite besvär och äfter fråga honom
då dätt är til hänäs fördel - häler ått
Minstone skrifva mig til - Mamsel är
o ändelit wäl Komen När som hälst
och husrum är allt tillagade/tingade [?] - Mäd 
aktnig täcknar Een Ödemiuk
                       Tjenarina
                       Maria Jans Dott
P:S War god och lått mig vetta post dagen för utt jnnan mamsel
komer
Artikel om Kisamor
Article about Kisamor
---
[English Homepage]
[Svensk bassida]
[Origo menu]
[Kisamor Översikt/Overview]
---
***