---
Please note: All files marked with a copyright notice are subject to normal copyright restrictions. These files may, however, be downloaded for personal use. Electronically distributed texts may easily be corrupted, deliberately or by technical causes. When you base other works on such texts, double-check with a printed source if possible.
---
Kisamor, dokument 4
(Kisamor document no 4)
Svensk renskrift av brevet följer längst ned på sidan.
Short English description of the contents of document no 4:
This is a note (6th and 7th of April 1817) to and from the post office concerning the disappeared letter that had been sent together with a box from Kisamor. (A transcript of this document in Swedish, see bottom of page.)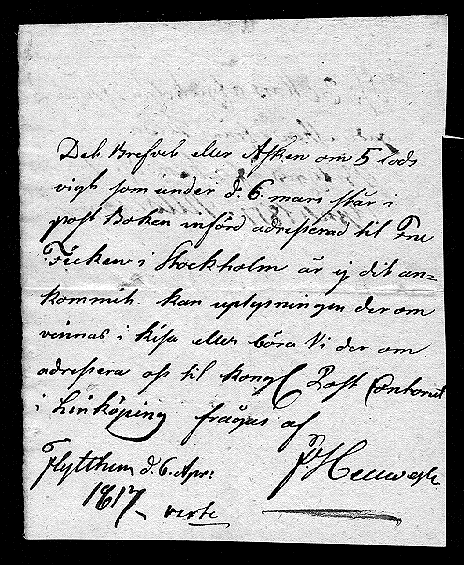 Reklamationsbrev till posten från J Hellwegh med svar från Nils Elggrén, Kisa. 6 och 7 april 1817. Mått: 12 cm x 15 cm.

Transkription

Det Brefvet eller Asken om 5 lods
vigt som under d 6 mars står i
post Boken införd adresserad til Fru
Ficken i Stockholm är ej dit an-
kommit. kan uplysningen derom
vinnas i kisa eller böra Vi der om
adressera oss til Kongl Post Contoret
i Linköping frågas af
                     J Hellwegh
Flytthem d.6.Apr:
1817 verte
Verso
Artikel om Kisamor
Article about Kisamor
---
[English Homepage]
[Svensk bassida]
[Origo menu]
[Kisamor Översikt/Overview]
---
***