---
Please note: All files marked with a copyright notice are subject to normal copyright restrictions. These files may, however, be downloaded for personal use. Electronically distributed texts may easily be corrupted, deliberately or by technical causes. When you base other works on such texts, double-check with a printed source if possible.
---
Kisamor, dokument 8, verso
(Kisamor document no 8, verso)
Svensk renskrift av brevet följer längst ned på sidan.
Short English description of the contents of letter no 8, verso:
Here is a prescription for a bad knee, probably for Jeanette's brother. The ingredients are althaea officinalis, bay-berry oil, and emplastrum meliloti. The latter is herba meliloti, olive oil, resin and wax mixed together. (A transcript of this document in Swedish, see bottom of page.)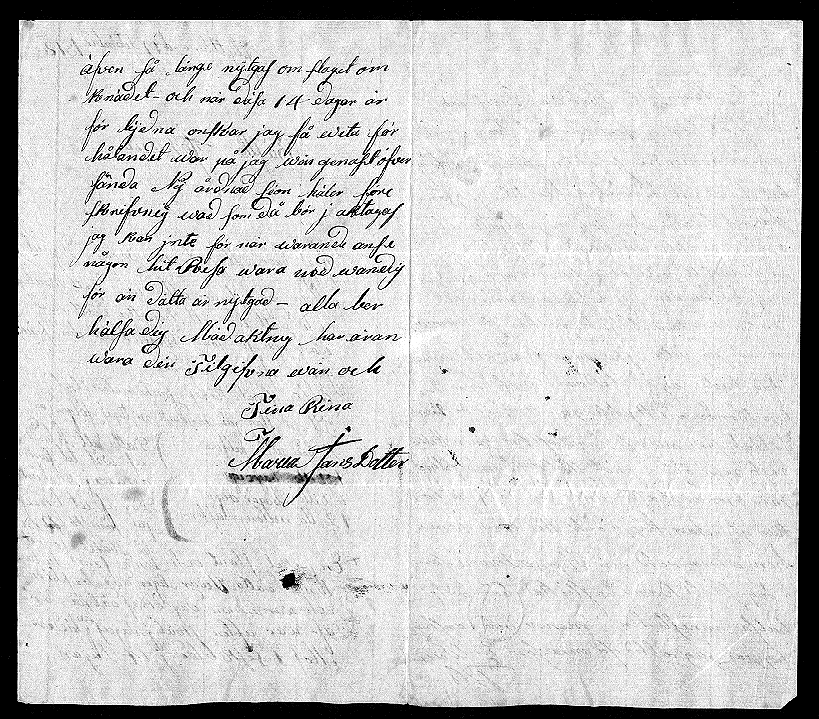 Brev den 19 september 1818 från Kisamor till Jeanette Ståhl. Mått: 22 cm x 19 cm.

Transkription


äfven så länge nytgas om slaget om
Knädet - och när däsa 14 dagar är
för lijdna onskar jag få weta för
hålandet war på jag will [?] genast öfver
sända Ny årdnad sion häler före
skrifning wad som då bör i aktagas
jag Kan jnte för när warande anse :
någon hit Resa wara nöd wandig
för än dätta är nytgad - alla ber
hälsa dig Mäd aktnig har äran
wara din Tilgifna wän och
                  Tina Rina
        Maria Jans Dotter


Artikel om Kisamor
Article about Kisamor
---
[English Homepage]
[Svensk bassida]
[Origo menu]
[Kisamor Översikt/Overview]
---
***