---
Please note: All files marked with a copyright notice are subject to normal copyright restrictions. These files may, however, be downloaded for personal use. Electronically distributed texts may easily be corrupted, deliberately or by technical causes. When you base other works on such texts, double-check with a printed source if possible.
---
Kisamor, dokument 9
(Kisamor document no 9)
Svensk renskrift av brevet följer längst ned på sidan.
Short English description of the contents of letter no 9:
Kisamor has obviously prescribed medicine for a child that is not one of Jeanette Ståhl's relatives. Since the prescription was so closely followed, Kisamor is encouraged to send two more bottles. They are labeled with the prescription, which therefore is not included in this letter.(A transcript of this document in Swedish, see bottom of page.)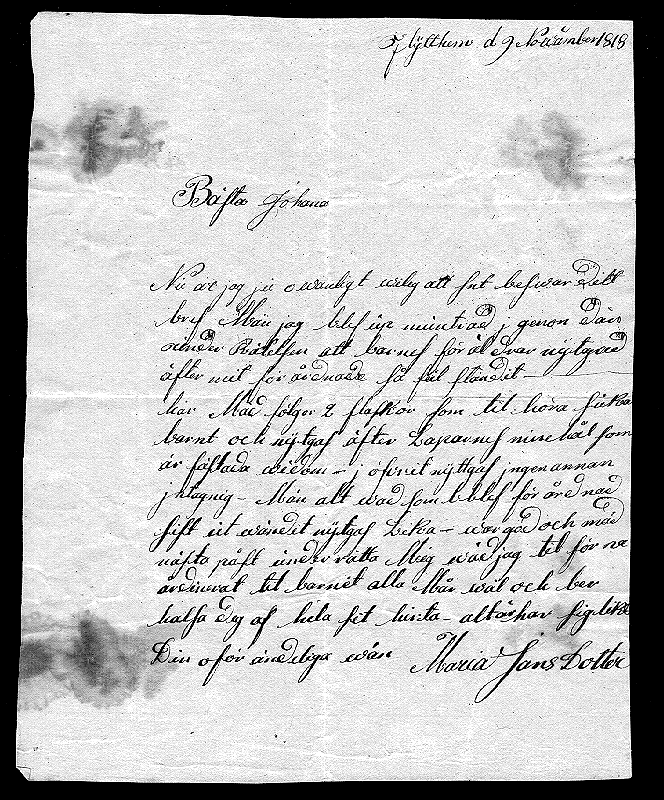 Brev den 9 november 1818 från Kisamor till Jeanette Ståhl. Mått: 17,5 cm x 21,5 cm.

Transkription


Flytthem d 9 November 1818

Bästa Johana

Nu är jag ju owanligt wileg att snt beswar ditt
bref Män jag blef up muntrad j genon dän
under Rätelsen att barnes föräl drar nytgad
äfter mit för årdnade så ful ständit ----
här Mäd fölger 2 flaskor som til höra suka
barnt och nytgas äfter Laparnas ninehål som
ar fästade widom j öfrit nyttgas jngen annan
jntagning Män alt wad som b blef för ård nad
sist ut wändit nytgas Lika - war god och mäd
nästa påst under rätta Mig wad jag til för ne
årdinerat til barnet alla Mår wäl och ber
halsa dig af hela sit hirta - alt är har sig likt
Din oför ändeliga wän
                     Maria Jans Dotter


Artikel om Kisamor
Article about Kisamor
---
[English Homepage]
[Svensk bassida]
[Origo menu]
[Kisamor Översikt/Overview]
---
***