---
Please note: All files marked with a copyright notice are subject to normal copyright restrictions. These files may, however, be downloaded for personal use. Electronically distributed texts may easily be corrupted, deliberately or by technical causes. When you base other works on such texts, double-check with a printed source if possible.
---
Äktenskaplig lycka
Marital bliss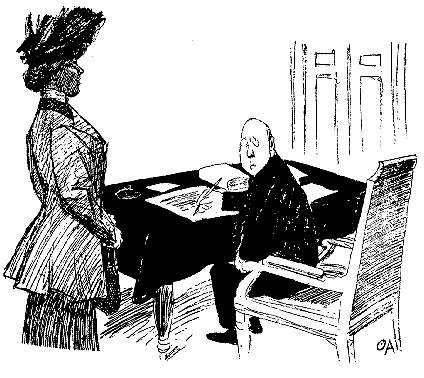 Fröken Ottilia Larsson ämnar ingå äktenskap med från Amerika hemkomne Johan Nyberg. Den viktiga tilldragelsen uppskjutes emellertid gång efter annan, på grund av att brudgummens prästbetyg förkommit. Slutligen gör fröken Ottilia ett sista besök på pastorsexpeditionen och säger resolut:
- Nu vill jag bara säja körkoherden, att hur de än blir så börja vi på måndag!

---

Miss Ottilia Larsson is going to marry Johan Nyberg, who has just returned from America. This important event is, however, postponed several times, since the groom's birth certificate is missing. At last, miss Ottilia pays a visit at the registrar's office and states:
- I just want to say one thing, reverend, whatever the outcome may be, we're starting monday!
---
[Next drawing]

[English Homepage]
[Svensk bassida]
[Oskar Andersson menu]
[Origo menu]

---
***