---
Please note: All files marked with a copyright notice are subject to normal copyright restrictions. These files may, however, be downloaded for personal use. Electronically distributed texts may easily be corrupted, deliberately or by technical causes. When you base other works on such texts, double-check with a printed source if possible.
---
Kisamor, dokument 13
(Kisamor document no 13)
Svensk renskrift av brevet följer längst ned på sidan.
Short English description of the contents of letter no 13:
Maria is sorry to hear about Jeanette's ailments, and she submits a remedy consisting of cnicus benedictus, buckbean (trefoil), horse-radish, elderflowers; a decoction to drink three times a day. "You may drink whatever you want afterwards," Kisamor writes, "to get rid of the taste of this decoction." (A transcript of this document in Swedish, see bottom of page.)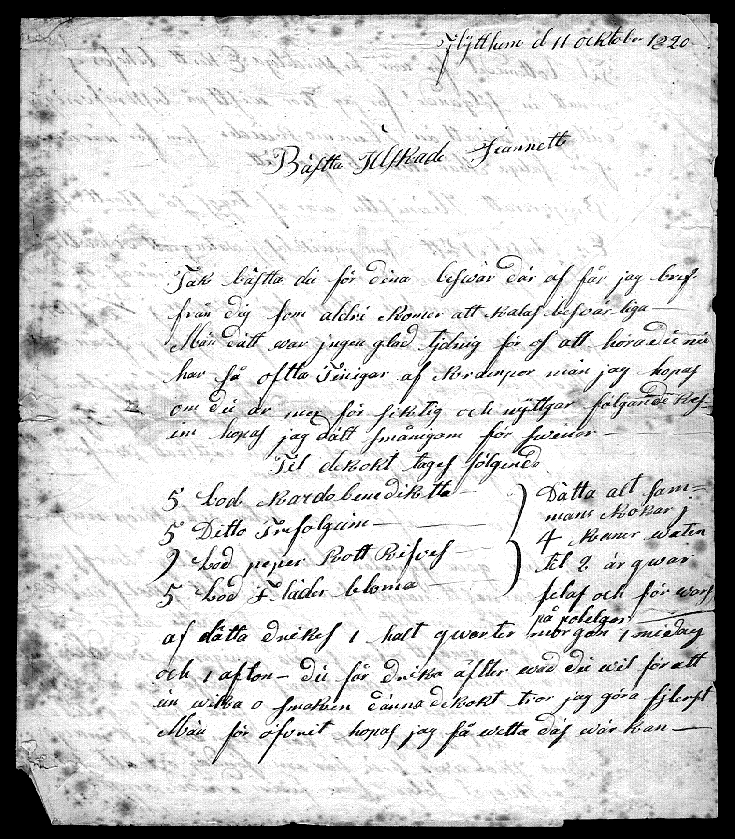 Brev den 11 oktober 1820 från Kisamor till Jeanette Ståhl. Mått: 19,5 cm x 23 cm, folded.
Transkription


Flytthem d 11 ocktober 1820

Bästta Älskade Jeannette

Tak bästta du för dina beswär där af får jag bref
från dig som aldri komer att kalas besvär liga -
Män dätt war jngen glad tjdnig för os att höra du nu
har så ofta Tinigar af Krampor män jag hopas
om du är mer för siktig och nyttgar fölgande Res-
im hopas jag dätt smånigom för swiner ---
      Til dekokt tages fölgende
5 Lod Kardo benediktta   | Dätta alt sam-
5 Ditto Trefolgum        | mans Kokar j
9 Lod peper Rott Rifves  | 4 Kaner waten
5 Lod Fläder bloma       | til 2 är qwar
                           silas och för wars
                           på potelger
af dätta drikes 1 halt qwarter morgon 1 midag
och 1 afton - du får drika äftter wad du wil för att
un wika o smaken dänna dekokt tror jag göra [?].
Män för öfvrit hopas jag fa wetta däs wär kan --


Verso
Artikel om Kisamor
Article about Kisamor
---
[English Homepage]
[Svensk bassida]
[Origo menu]
[Kisamor Översikt/Overview]
---
***