---
Please note: All files marked with a copyright notice are subject to normal copyright restrictions. These files may, however, be downloaded for personal use. Electronically distributed texts may easily be corrupted, deliberately or by technical causes. When you base other works on such texts, double-check with a printed source if possible.
---
Kisamor, dokument 14
(Kisamor document no 14)
Svensk renskrift av brevet följer längst ned på sidan.
Short English description of the contents of letter no 14:
"Innumerable thanks for your two letters we were delighted beyond description to see you are feeling well - and I especially, since I was convinced that you got rid of that serious headache without medication - I don't think that the sea air was the sole reason for it you are obviously happier in spirit and get easily digested food to consume ...." Follows a cure for "young Eckert" a man who suffers from "stomach gout": Polypody roots, licorice root, hyssop and buckbean (trefoil) should boil together in 13 litres of water until the liquid is reduced to 6.5 litres. Drink 1/3 litres of this, three times a day. Kisamor does not want to recommend Eckert to drink mineral water at a Spa. Instead he should continue his cure with "dog lard", which sometimes is what it says, and sometimes lard or suet from all sorts of domestic animals, pigs, geese, chickens, horses ... Kisamor has treated a new patient, a farmer from Norway, a decent fellow with contusions in his arm and shoulder. He will travel home again the next day. (A transcript of this document in Swedish, see bottom of page.)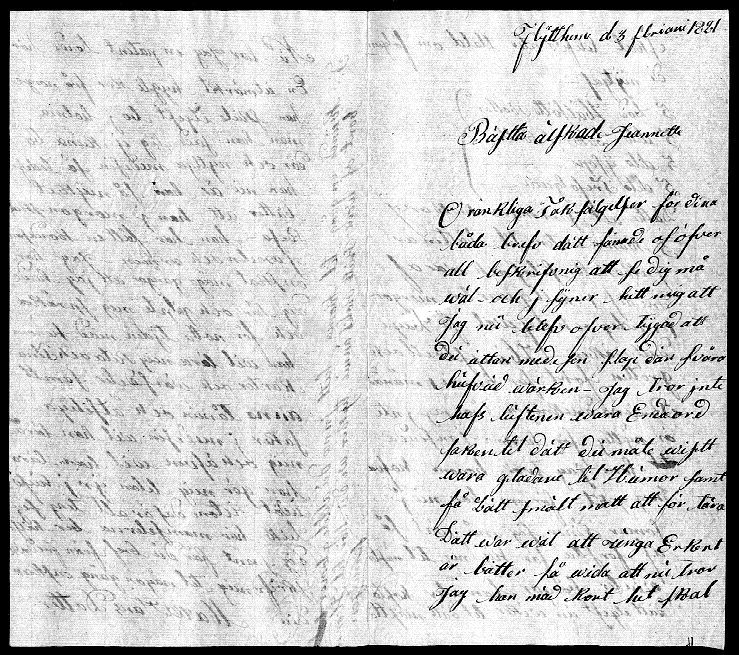 Brev den 3 februari 1821 från Kisamor till Jeanette Ståhl. Mått: 22,5 cm x 20 cm.
Transkription


Flytthem d 3 fbriari 1821

Bästta älskade Jeanette

O ränkliga Tak sälgelser för dina
båda brefv dätt fänade os öfver
all beskrivnig att se dig må
wäl - och j syner hett mig att
Jag nu blefv ofver tygad att
du uttan medesen slop dän svåra
hufvud wärken - Jag tror jnte
hafs luftenen wara Enda ord
saken til dätt du måte wistt
wara gladare til Humör samt
få Lätt smält matt att för tära
Dätt war wäl att unga Erkert
är bätter så wida att nu tror
Jag han mäd Kort het skal


Verso
Artikel om Kisamor
Article about Kisamor
---
[English Homepage]
[Svensk bassida]
[Origo menu]
[Kisamor Översikt/Overview]
---
***