---
Please note: All files marked with a copyright notice are subject to normal copyright restrictions. These files may, however, be downloaded for personal use. Electronically distributed texts may easily be corrupted, deliberately or by technical causes. When you base other works on such texts, double-check with a printed source if possible.
---
Kisamor, dokument 18
(Kisamor document no 18)
Svensk renskrift av brevet följer längst ned på sidan.
Short English description of the contents of letter no 18:
"Oh I beg you thanks for your dearly received letter to see you rid of that horrible torment was one of the best tidings I could get - the powder should be taken yet 1 month - with the only difference that half the amount should be taken in the evening ...." During her period she should not take this medicine; it might be substituted with 2 cups of elder-tea. Kisamor wishes that Jeanette would come next Tuesday, since Maria's old friend Malin Rääf will drop by on her way from a Spa. The two young women ought to get to know each other, Kisamor thinks. (A transcript of this document in Swedish, see bottom of page.)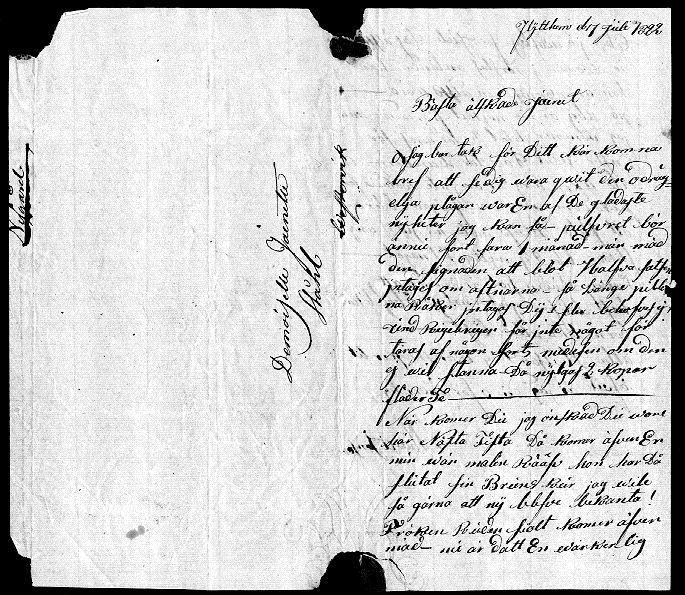 Brev den 17 juli 1822 från Kisamor till Jeanette Ståhl. Mått: 22,5 cm x 20 cm.
Transkription


Flytthem d 17 juli 1822

Bästa älskade Jaenet

O jag ber tak för Ditt Kär Kom na
bref att se dig wara qwit den o dräg-
elija plågan war En af De gladaste
nyheter jag Kan få - pulfvret bör
ännu fort fara 1 månad - män mäd
den signaden att blot Halfva satsen
jntages om aftnarna - så Länge piller-
na Räker jntages Dij [?] fler behöfves ej
und Rigeleriger får jnte något för
täras af någon sorts medesen om den
ej wil stanna - Då nytgas 2 Kopar
fläder Te ------
När Komer Du jag önskad Du wore
här Nästa Tista Då Komer äfven En
min wän malin Rääfv hon har Då
slutat sin Bruns Kur jag wile
så gärna att nij blefve bekanta!
Fröken Ruden siolt Komer äfven
mäd - nu är dätt En wärker lig

[Brevet adresserat till:/the address written as:]
Demoiselle Jaenette
Ståhl
Westervik
Nygård


Verso
Artikel om Kisamor
Article about Kisamor
---
[English Homepage]
[Svensk bassida]
[Origo menu]
[Kisamor Översikt/Overview]
---
***