---
Please note: All files marked with a copyright notice are subject to normal copyright restrictions. These files may, however, be downloaded for personal use. Electronically distributed texts may easily be corrupted, deliberately or by technical causes. When you base other works on such texts, double-check with a printed source if possible.
---
Kisamor, dokument 23
(Kisamor document no 23)
Svensk renskrift av brevet följer längst ned på sidan.
Short English description of the contents of letter no 23:
Jeanette is afflicted with neurasthenia and her son has got some sickness too. Kisamor recommends this "decoction for the nerves": sarsaparilla, lilies of the valley, lemon balm, rosemary, curled mint, valerian and althaea officinalis. (A transcript of this document in Swedish, see bottom of page.)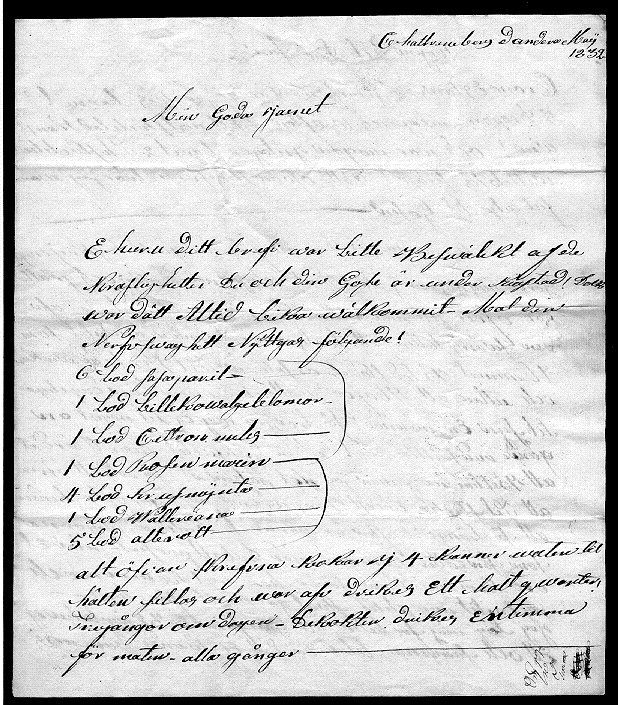 Brev den 2 maj 1832 från Kisamor till Jeanette Ståhl. Dubbelvikt, skrivet på tre av fyra sidor. Sida 1. Mått: 20 cm x 23,5 cm, i vikt skick.
Transkription


Chathrineberg d andere Maij 1832

Min Goda Jaenet

Ehuru ditt brefv war Litte Beswälikt af de
Kraslighetter Du och din Gosse är under Kastad! Dock
war dätt Altid Lika wälkommit Mot din
Nerfvswaghett Nyttgar fölgande!
6 Lod sasaparil
1 Lod Lillekowalgeblomor
1 Lod Cettron [melis?]
1 Lod Rosen Marin
4 Lod Krusmynta
1 Lod Wallereana
5 Lod alterott
alt öfvan skrefvna Kokar j 4 Kanner waten til
hälten sillas och war afv drikes Ett halt qwarter!
Tregånger [?] om dagen - Dekokten drikes Entimma
för maten - alla gånger --------------


Sida/Page 2
Sida/Page 3
Artikel om Kisamor
Article about Kisamor
---
[English Homepage]
[Svensk bassida]
[Origo menu]
[Kisamor Översikt/Overview]
---
***