---
Please note: All files marked with a copyright notice are subject to normal copyright restrictions. These files may, however, be downloaded for personal use. Electronically distributed texts may easily be corrupted, deliberately or by technical causes. When you base other works on such texts, double-check with a printed source if possible.
---
Kisamor, dokument 24
(Kisamor document no 24)
Svensk renskrift av brevet följer längst ned på sidan.
Short English description of the contents of letter no 24:
Letter from Kisamor to Juli (Drangel? or Jeanette [Johanna Ulrika Sthåhl, n&eacutee Wahlbom]?). Another prescription for the young Eckert, this time with garlic, acorus calmus, buckbean (trefoil), polypody roots, to be boiled into a reduced concoction. (A transcript of this document in Swedish, see bottom of page.)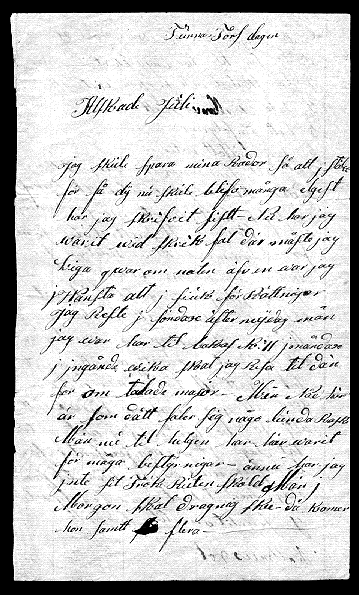 Brev från Kisamor till Jeanette Ståhl eller möjligen Julia Drangel. Trol. från 1821. Mått: 11 cm x 19,5 cm.
Transkription


Tunna Tors dagen

Älskade Juli

Jag skule spara mina Rador så att j stälet
för få dij nu skule blifv många elgest
har jag skrifvit sistt Nu har jag
warit wid skrekfal där måste jag
Liga qwar om naten äfven war jag
j Wansta alt j siukförRättnigar
jag Reste j söndase äfter mijdag män
jag war har til bakas K 11 j måndase
j jngående wika skal jag Resa til dän
for om talade major Män [Nåe?] här
är som dätt faler sig någo lunda Rask
Män nu til helgen har här warit
för måga bestyr nigar - ännu har jag jnte
jnte sit Frök Ruten sköld Män j
morgon skal dragning ske då komer
hon samtt flera ---------


Verso
Artikel om Kisamor
Article about Kisamor
---
[English Homepage]
[Svensk bassida]
[Origo menu]
[Kisamor Översikt/Overview]
---
***