---
Please note: All files marked with a copyright notice are subject to normal copyright restrictions. These files may, however, be downloaded for personal use. Electronically distributed texts may easily be corrupted, deliberately or by technical causes. When you base other works on such texts, double-check with a printed source if possible.
---
Kisamor, dokument 5
(Kisamor document no 5)
Svensk renskrift av brevet följer längst ned på sidan.
Short English description of the contents of document no 5:
Letter to Jeanette Ståhl from Kisamor, dated March 13th 1818, written shortly after a visit to Stockholm. For Jeanette's father, the famous chair maker Ephraim Ståhl, she recommends a double wormwood remedy to prolong his life. (A transcript of this document in Swedish, see bottom of page.)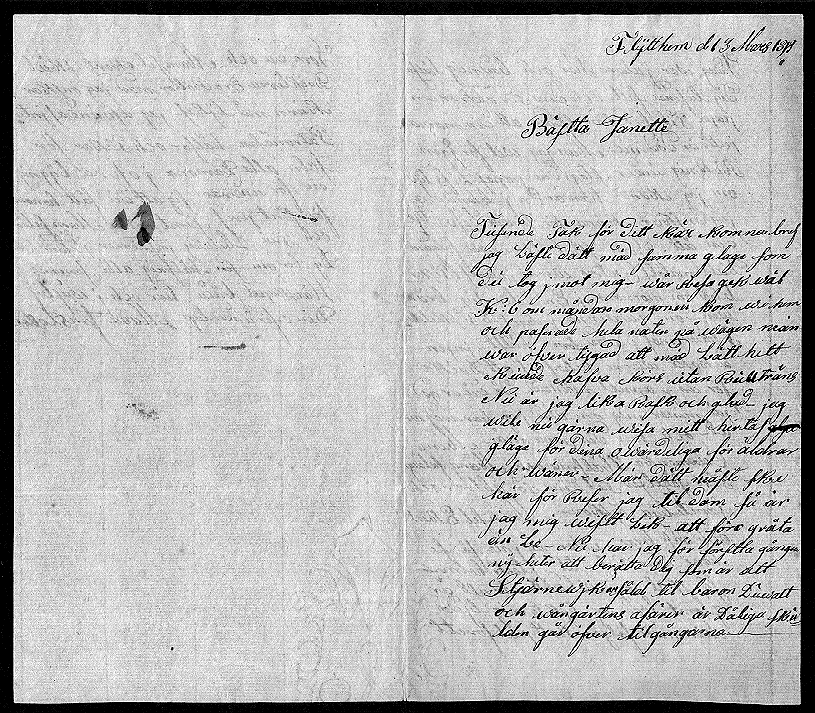 Brev från Kisamor till Jeanette Ståhl den 13 mars 1818. Mått: 22 cm x 19,5 cm.

Transkription

Flytthem d 13 Mars 1818

Bästta Janette

Tusende Tak för ditt kär komna bref
jag Läste dätt mäd samma glage som
du tog jmot mig - wår Resa gek wäl
K: 6 om måndags morgonen kom wi hem
och passerade hela naten på wägen män
war öfver tygad att mäd Lätt hett
Kunde hafva Körs utan Rullträns
Nu är jag lika Rask och glad - jag
wile nu gärna wisa mitt hirtas
gläge för dina o wärdeliga föräldrar
och wäner - Män dätt måste ske
här för Reser jag til dem så är
jag mig wistt Lik - att förr gråta
än Le. - Nu har jag för förstta gången
ny heter att berätta Dig som är att
Stjärnewjk är såld til baron Duwalt
och wånggårtens afärer är Dåliga, sku-
lden går öfver tilgångarna -
Verso
Artikel om Kisamor
Article about Kisamor
---
[English Homepage]
[Svensk bassida]
[Origo menu]
[Kisamor Översikt/Overview]
---
***