---
Please note: All files marked with a copyright notice are subject to normal copyright restrictions. These files may, however, be downloaded for personal use. Electronically distributed texts may easily be corrupted, deliberately or by technical causes. When you base other works on such texts, double-check with a printed source if possible.
---
Kisamor, dokument 7
(Kisamor document no 7)
Svensk renskrift av brevet följer längst ned på sidan.
Short English description of the contents of letter no 7:
Kisamor thanks Jeanette for her last letter and wishes to prescribe something for her mother's arm. Kisamor diagnoses this ailment as gout. (A transcript of this document in Swedish, see bottom of page.)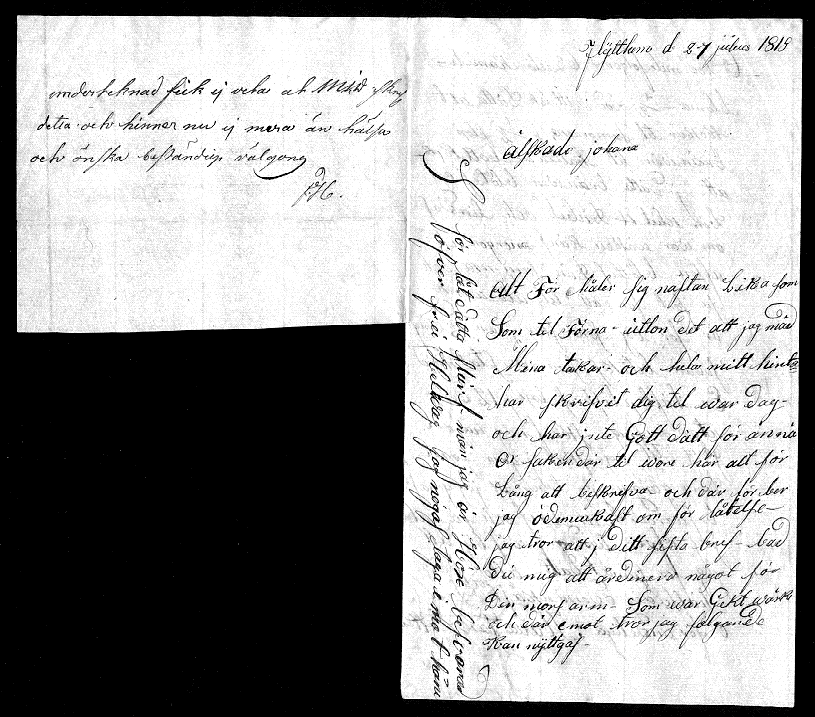 Brev den 27 juli 1818 från Kisamor till Jeanette Ståhl. Mått: 11/22 cm x 19 cm.

Transkription


Flytthem d 27 julius 1818

Älskade johana

Alt För håler sig nästan Lika som
Som til Förna - utton det att jag mäd
Mina takar och hela mitt hirta
har skrifvit dig til war dag
och har jnte Gott dett för anna [?]
Or saken där til wore här alt för
Lång att beskrifva och där för ber
jag ödemiukast om för låtelse -
jag tror att j ditt sista bref - bad
du mig att årdinera nagot för
Din mors arm - Som war Gekt wärk
och där emot tror jag fölgande
Kan nyttgas - [se verso/see verso side]
[uppe till vänster/upper left:]
underteknad fick ej veta at MJD skref
detta och hinner nu ej mera än hälsa
och önska beständig välgong
JH.
[i marginalen/in the margin:]
S  för låt dätta slarf män jag är Höx besvärad
öfver fru Helwag jag nögas taga i mot häne

Verso
Artikel om Kisamor
Article about Kisamor
---
[English Homepage]
[Svensk bassida]
[Origo menu]
[Kisamor Översikt/Overview]
---
***